The RegTech 100 for 2019 is announced to recognize the pioneering companies transforming compliance, risk management and cybersecurity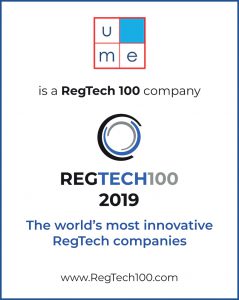 The world's most innovative technology solution providers that address the challenges of dealing with regulatory issues within financial services, were announced today by RegTech Analyst, a specialist research firm.
The RegTech (regulatory technology) industry has seen huge growth in the last two years as banks and financial institutions grapple with the unrelenting pace of regulatory change across all jurisdictions. Over $4bn has been invested in RegTech companies since the beginning of 2016.
As a result, this year's process to identify the leading 100 companies in the RegTech space was even more competitive than last year. A panel of analysts and industry experts voted from a longlist of 824 companies produced by RegTech Analyst, compared to a list of 416 last year. The finalists were recognized for their innovative use of technology to solve a significant industry problem, or to generate cost savings or efficiency improvements across the compliance function.
Fifty-five new companies entered the RegTech 100 this year. The risk management category saw the biggest increase with an additional 10 companies gaining RegTech 100 status to occupy 47 places on the list, while companies offering solutions that address MiFID II regulation in Europe saw a 10% increase in their number to take a total of 38 places.
European and North American companies still dominate the RegTech 100 with 60% and 29% of places, respectively. Within Europe, UK companies enhanced the country's leading position on the list with 30 representatives compared to 26 last year. The emergence of a thriving global RegTech ecosystem has seen companies from another 21 countries make the list, including Ireland, Switzerland, Singapore, India and Luxembourg.
"The impact of the most innovative RegTech companies will be measured in billions of dollars over the next few years,"according to Mariyan Dimitrov, head of research at RegTech Analyst. "RegTech 100 companies offer solutions that enhance processes across the entire compliance function, including onboarding verification, risk management, communications monitoring, information security and reporting by using the latest technologies such as artificial intelligence, blockchain, natural language processing and biometrics." 
A full list of the RegTech 100 is available at www.RegTech100.com. More detailed information on all companies as well as in-depth industry analysis is available in the Global RegTech Review (www.GlobalRegTechReview.com).